Honeymoon
great time in Paros
Honeymoon in Paros Island
WHY HONEYMOON IN PAROS?

There's a reason why Paros ranks highly on honeymoon wish lists - these picture-perfect island is a real-life island fantasy.

A Paros honeymoon is exclusive and secluded. It's as close as it gets to newlywed heaven.

Crystal clear waters, sandy beaches come as standard, while candlelit dinners under starry skies, exclusive upgrades and bespoke experiences-for-two make for an extra special start to married life. And then there's the accommodation.

A luxury and very comfortable suite with a private pool, facing the port of Paros is particularly popular with honeymooners.

After what may have been a hectic few months planning your wedding, on your honeymoon in Paros you may want to do little more than eat, drink, snooze and soak up the sun. We totally understand that; this is the ultimate destination after all. But if you need some reassurance that there are enough things to do to fill your days here, we can tell you about snorkeling and diving, kite surf and windsurf, thrilling water sports, spa treatments, sunset cruises and daily trips to other Cycladic islands.
WHEN IS THE BEST TIME TO VISIT PAROS?

The peak season in Paros is middle of July till August, when it's hotter with more people on the island. If you like a more quiet and relaxing honeymoon trip, you could visit us from middle or end of May, June and September as it is also sunny (about 25-30 degrees), the water is perfect for swimming and it is not overcrowded.

If you prefer to investigate the island, the picturesque villages and walk to the beach like a local, April, May and October is the best period! The weather is very good, not so hot (about 20 degrees) and this is when some of the best value offers are available.


HOW LONG SHOULD I SPEND ON MY PAROS HONEYMOON?
A week to ten days is ideal. If you're planning for a two-week honeymoon, consider to visit during your accommodation in Paros some other islands around such as Santorini, Mykonos and Delos with some of the available daily trips. We could help you to organize it!
About Honeymoon in Paros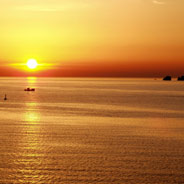 Paros
Paros is one of the most popular islands in the Aegean. It is situated in the centre of the Cyclades (closed to many famous islands such as Myconos, Santorini, Antiparos etc) with 15.000 permanent residents. Paros offers various kinds of amusement rendering it as a proper destination for any kind of holidays you wish to do (great history of glorious culture, excellent beaches, nightlife, water sports etc). It is one of the few islands which combine quiet and relaxing holidays as well as miscellaneous day-time activities and intense night life entertainment. Enjoy the tasteful Greek cuisine with fresh vegetables, fish and meat and drink local wine and Greek ouzo next to the sea. In Paros you will meet friendly and hospitable people who will help you at any time during your holidays. Although the island attracts thousands of visitors every year, it is never becoming overcrowded due to its size.

More local tips for Paros
Paros by night
Paros is renowned for its cosmopolitan and exciting nightlife with many drinking and dancing venues. Whatever your taste, Paros offers it. There are two main destinations for active nightlife in Paros: Parikia and Naoussa. Many of the bars, beach bars and nightclubs are concentrated in Parikia (the capital of Paros) with a lot of harbor view clubs with loud music and all night dance mood. Naoussa is the second but most famous night life spot on the island with many clubs on the seafront! Some suggest that Naoussa is a little more sophisticated and it tends to be where the local population go for their night's entertainment whereas Parikia is thought to be more relaxed and international. Both however are excellent and you will be made to feel really welcome. Although there are many beach bars throughout the island which organize beach parties and concerts, often lasting all night.
Restaurants - Food
Visiting Paros you have an excellent opportunity to sample the best of traditional Greek cuisine. Choices include romantic and sophisticated restaurants, traditional tavernas and ouzeris. With its superb choice of taverns and restaurants, you can have the very best fresh sea food, grilled local meats and fresh, organic produce grown no more than a few kilometers away. The choice of environment is also outstanding. Not only you have many options of seaside restaurants and taverns but there is a great variety of excellent places to eat inland and in the mountain villages. If, however, you crave a taste of something more exotic, Paros also has several restaurants that offer Indian, Chinese, Thai and European cuisine as well as fusion menus.
Activities in Paros
Although Paros is not a big island there are many things to do during your trip and your holidays will be unforgettable.
Kite and Wind Surfing: Most of all, Paros is the paradise for kite surfers and windsurfers. Scuba diving is also a popular activity on Paros island.
• Wellness Treatments and Fitness
• Swimming
• Diving
• Fishing
• Walking
• Jogging
• Horse or Donkey Riding
• Cycling
• Archeological Museum
• Daily trips

See Activities in Paros
Environment

• At the village of Molos, at the east side of Paros, there is a protected area of European Union and Natura 2000 programme
• Close to famous Naoussa, the area of the marsh of Kolibithres, which is 30.000 sq.m is a unique area
• The lagoon of Santa Maria, closed to Naoussa
• The ravine with the butterflies, which is situated at the center of the island of Paros, close to the monastery of Christ. In this area there is a creek, twigs, Kermes oaks and common junipers. This biotope is of high ecological importance, because of the presence of the Tiger Month butterfly, a rare phenomenon in Greece
• A lot of small islands around the island of Paros
Unforgettable Moments

"A truly relaxing and want for nothing experience! Spotlessly clean accommodation with a breathtaking view overlooking the port town of Parikia - Martin, UK"

"Amazing! Not only it is a great suite (very modern, much larger than what we expected, great infrastructure) but above all it is a 5 star hotel services - Marine, France"

"An amazing experience! What can I say for the owner, Nikos? He is making the difference...it is like to have a friend in town. Everything you need, Nikos can help you always with a smile - Emmanuel, Italy"

"Best place to be - Robert, Germany"

"Paros hidden ruby. Nikos is the best host you can find, his place is a rare ruby - Charles, France"